Under construction.
This is the region map. The SG2 Gemini map is divided into 340 hexes (0-399), starting with 0 at left bottom, counting 20 hexes along, then coming back to the left corner again for another row. On the map below you can see how it divides. I also marked all the stations' and planets' names, so from now on we can see what is where on the map. The table below gives how the regions divided up on the hexes.
Click here to go back to the ships page.
The map is 3442x3334 pixel.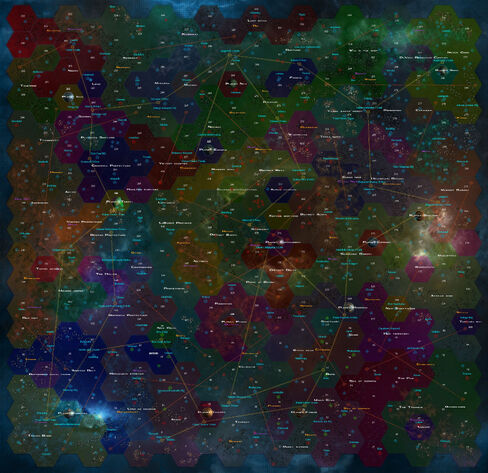 In the table below you can see how the regions appear on the map by sectors (hexes). For example the Abyss is stretching on the sectors 161, 182, 202 sectors (161 not connects with 182 and 202, because the Ascension region is dividing it) and so on. If I can come up with something more handy, I will edit the page.
| | |
| --- | --- |
| Sector Id | Region Name per Sector |
| 161 | Abyss |
| 182 | Abyss |
| 202 | Abyss |
| 5 | Aegis |
| 6 | Aegis |
| 7 | Aegis |
| 26 | Aegis |
| 27 | Aegis |
| 46 | Aegis |
| 47 | Aegis |
| 67 | Aegis |
| 128 | Aethera |
| 147 | Aethera |
| 148 | Aethera |
| 167 | Aethera |
| 211 | Akron_complex |
| 4 | Aristes_Belt |
| 24 | Aristes_Belt |
| 42 | Aristes_Belt |
| 43 | Aristes_Belt |
| 60 | Aristes_Belt |
| 62 | Aristes_Belt |
| 63 | Aristes_Belt |
| 81 | Aristes_Belt |
| 82 | Aristes_Belt |
| 83 | Aristes_Belt |
| 160 | Ascension |
| 180 | Ascension |
| 181 | Ascension |
| 200 | Ascension |
| 201 | Ascension |
| 220 | Ascension |
| 98 | Attilas_whip |
| 99 | Attilas_whip |
| 118 | Attilas_whip |
| 136 | Attilas_whip |
| 137 | Attilas_whip |
| 138 | Attilas_whip |
| 139 | Attilas_whip |
| 159 | Attilas_whip |
| 277 | Catapult |
| 194 | Cloud_nine |
| 214 | Cloud_nine |
| 233 | Cloud_nine |
| 203 | Cromwell_Prefecture |
| 204 | Cromwell_Prefecture |
| 223 | Cromwell_Prefecture |
| 224 | Cromwell_Prefecture |
| 225 | Cromwell_Prefecture |
| 145 | Crossroads |
| 48 | Crysalys |
| 68 | Crysalys |
| 69 | Crysalys |
| 70 | Crysalys |
| 71 | Crysalys |
| 90 | Crysalys |
| 317 | DaVinci_Research_Complex |
| 144 | Degran_Prefecture |
| 163 | Degran_Prefecture |
| 164 | Degran_Prefecture |
| 185 | Degran_Prefecture |
| 172 | District_Alpha |
| 173 | District_Alpha |
| 192 | District_Alpha |
| 193 | District_Alpha |
| 213 | District_Alpha |
| 190 | District_Beta |
| 210 | District_Beta |
| 212 | District_Beta |
| 231 | District_Beta |
| 131 | District_Delta |
| 150 | District_Delta |
| 151 | District_Delta |
| 152 | District_Delta |
| 149 | District_Gamma |
| 168 | District_Gamma |
| 169 | District_Gamma |
| 188 | District_Gamma |
| 189 | District_Gamma |
| 291 | Fenicia |
| 292 | Fenicia |
| 157 | Godswrath |
| 179 | Godswrath |
| 66 | GSE |
| 85 | GSE |
| 207 | Hadrian_wall |
| 208 | Hadrian_wall |
| 229 | Hadrian_wall |
| 230 | Hadrian_wall |
| 205 | Hamilton_shipyard |
| 196 | Helmsford_Barony |
| 215 | Helmsford_Barony |
| 216 | Helmsford_Barony |
| 217 | Helmsford_Barony |
| 234 | Helmsford_Barony |
| 235 | Helmsford_Barony |
| 44 | Heraclean_stretch |
| 64 | Heraclean_stretch |
| 65 | Heraclean_stretch |
| 102 | Holger_cross |
| 121 | Holger_cross |
| 122 | Holger_cross |
| 123 | Holger_cross |
| 142 | Holger_cross |
| 95 | Hub_territory |
| 96 | Hub_territory |
| 97 | Hub_territory |
| 115 | Hub_territory |
| 117 | Hub_territory |
| 135 | Hub_territory |
| 288 | Kingsway |
| 308 | Kingsway |
| 309 | Kingsway |
| 325 | Kingsway |
| 326 | Kingsway |
| 327 | Kingsway |
| 166 | LaGarde_Province |
| 187 | LaGarde_Province |
| 186 | Laguardia |
| 25 | Land_of_despair |
| 45 | Land_of_despair |
| 328 | Last_ditch |
| 329 | Last_ditch |
| 330 | Last_ditch |
| 331 | Last_ditch |
| 332 | Last_ditch |
| 283 | Lens |
| 37 | Lunaee |
| 156 | Maelstrom |
| 158 | Maelstrom |
| 178 | Maginot_Barony |
| 198 | Maginot_Barony |
| 199 | Maginot_Barony |
| 218 | Maginot_Barony |
| 219 | Maginot_Barony |
| 237 | Maginot_Barony |
| 238 | Maginot_Barony |
| 239 | Maginot_Barony |
| 287 | Masada |
| 11 | Murky_waters |
| 12 | Murky_waters |
| 266 | Mycaena |
| 267 | Mycaena |
| 285 | Mycaena |
| 286 | Mycaena |
| 307 | Mycaena |
| 247 | Necalli |
| 248 | Necalli |
| 249 | Necalli |
| 250 | Necalli |
| 268 | Necalli |
| 86 | New_Delhi |
| 116 | New_Sagittarius |
| 278 | Nexus_Core |
| 279 | Nexus_Core |
| 297 | Nexus_Core |
| 299 | Nexus_Core |
| 318 | Nexus_Core |
| 319 | Nexus_Core |
| 337 | Nexus_Core |
| 338 | Nexus_Core |
| 339 | Nexus_Core |
| 281 | Nirith |
| 282 | Nirith |
| 300 | Nirith |
| 302 | Nirith |
| 303 | Nirith |
| 320 | Nirith |
| 321 | Nirith |
| 84 | Orenhelm_Prefecture |
| 103 | Orenhelm_Prefecture |
| 104 | Orenhelm_Prefecture |
| 105 | Orenhelm_Prefecture |
| 106 | Orenhelm_Prefecture |
| 125 | Orenhelm_Prefecture |
| 16 | Outerlands |
| 17 | Outerlands |
| 18 | Outerlands |
| 19 | Outerlands |
| 38 | Outerlands |
| 39 | Outerlands |
| 58 | Outerlands |
| 59 | Outerlands |
| 78 | Outerlands |
| 79 | Outerlands |
| 269 | Palomar |
| 270 | Palomar |
| 271 | Palomar |
| 272 | Palomar |
| 256 | Perimeter |
| 257 | Perimeter |
| 258 | Perimeter |
| 259 | Perimeter |
| 275 | Perimeter |
| 276 | Perimeter |
| 296 | Perimeter |
| 316 | Perimeter |
| 336 | Perimeter |
| 197 | Planet_Baeldor |
| 171 | Planet_Carthagena |
| 175 | Planet_Corrion |
| 228 | Planet_Eanakai |
| 32 | Planet_Fairuz |
| 114 | Planet_Hogosha |
| 262 | Planet_Iolia |
| 22 | Planet_Korkyra |
| 289 | Planet_Nyx |
| 109 | Planet_Pyros |
| 298 | Planet_Sora |
| 28 | Planet_Thauria |
| 184 | Planet_Trinity |
| 243 | Plymouth_Shipyard |
| 88 | Porphyria |
| 89 | Porphyria |
| 108 | Porphyria |
| 110 | Porphyria |
| 111 | Porphyria |
| 129 | Porphyria |
| 130 | Pride_of_Gemini |
| 87 | Promethean |
| 107 | Promethean |
| 126 | Promethean |
| 127 | Promethean |
| 146 | Promethean |
| 165 | Promethean |
| 290 | Rapture |
| 310 | Rapture |
| 311 | Rapture |
| 312 | Rapture |
| 313 | Rapture |
| 333 | Rapture |
| 80 | Red_mist |
| 100 | Red_mist |
| 101 | Red_mist |
| 120 | Red_mist |
| 140 | Red_mist |
| 61 | Rotterdam_naval_yards |
| 73 | Ruhr |
| 113 | Sanctuary |
| 15 | Sea_of_sorrow |
| 35 | Sea_of_sorrow |
| 54 | Sea_of_sorrow |
| 75 | Sea_of_sorrow |
| 132 | Sentchuk_Barony |
| 134 | Sentchuk_Barony |
| 153 | Sentchuk_Barony |
| 154 | Sentchuk_Barony |
| 155 | Sentchuk_Barony |
| 174 | Sentchuk_Barony |
| 176 | Sentchuk_Barony |
| 177 | Sentchuk_Barony |
| 195 | Sentchuk_Barony |
| 246 | Serpent |
| 264 | Serpent |
| 265 | Serpent |
| 284 | Serpent |
| 304 | Serpent |
| 305 | Serpent |
| 306 | Serpent |
| 322 | Serpent |
| 323 | Serpent |
| 324 | Serpent |
| 209 | Solomon_battlestation |
| 222 | Soreen |
| 242 | Soreen |
| 244 | Soreen |
| 263 | Soreen |
| 94 | Spire |
| 170 | Starpoint |
| 91 | Stone_dead |
| 92 | Stone_dead |
| 112 | Stone_dead |
| 133 | Stone_dead |
| 260 | Talgarno |
| 261 | Talgarno |
| 280 | Talgarno |
| 301 | Talgarno |
| 8 | Tempest |
| 9 | Tempest |
| 10 | Tempest |
| 29 | Tempest |
| 30 | Tempest |
| 49 | Tempest |
| 50 | Tempest |
| 253 | Tesla_ruins |
| 124 | The_Hollow |
| 143 | The_Hollow |
| 55 | The_Paw |
| 56 | The_Paw |
| 76 | The_Paw |
| 77 | The_Paw |
| 36 | The_Triangle |
| 57 | The_Triangle |
| 119 | Tortuga_bay |
| 221 | Tranquility |
| 240 | Tranquility |
| 241 | Tranquility |
| 141 | Triton_academy |
| 0 | Trojan_Basin |
| 1 | Trojan_Basin |
| 2 | Trojan_Basin |
| 3 | Trojan_Basin |
| 20 | Trojan_Basin |
| 21 | Trojan_Basin |
| 23 | Trojan_Basin |
| 40 | Trojan_Basin |
| 41 | Trojan_Basin |
| 13 | Union_Claim |
| 14 | Union_Claim |
| 31 | Union_Claim |
| 33 | Union_Claim |
| 34 | Union_Claim |
| 51 | Union_Claim |
| 52 | Union_Claim |
| 53 | Union_Claim |
| 72 | Union_Claim |
| 74 | Union_Claim |
| 93 | Union_Claim |
| 206 | Veynor_cluster |
| 226 | Veynor_cluster |
| 227 | Veynor_cluster |
| 245 | Veynor_cluster |
| 162 | Vorten_Prefecture |
| 183 | Vorten_Prefecture |
| 232 | Wasteland |
| 236 | Wasteland |
| 251 | Wasteland |
| 252 | Wasteland |
| 255 | Wasteland |
| 293 | Will_o_the_wisp |
| 294 | Will_o_the_wisp |
| 295 | Will_o_the_wisp |
| 314 | Will_o_the_wisp |
| 315 | Will_o_the_wisp |
| 334 | Will_o_the_wisp |
| 335 | Will_o_the_wisp |
| 191 | Xerxes_shipyard |
| 254 | Yxaril_waste_depot |
| 273 | Yxaril_waste_depot |
| 274 | Yxaril_waste_depot |